Weatherization Assistance Program
What is Weatherization?
The West Virginia Weatherization Assistance Program (WAP) is a federally funded program that helps low-income households in the state to reduce the costs incurred due to energy related utilities. The program does this by implementing energy efficiency measures in the homes of qualifying households such as:
Insulation of walls, floors and attics
Repairing malfunctioned home heating systems
Maintenance of air supply and conditioning systems
Eligibility Requirements
Must be a resident of West Virginia and must have an income that is less than or equal to the specified income maximum.
Household Size
Maximum Income Level (Per Year)
*For households with more than eight people, add $10,280 per additional person. Always check with the appropriate managing agency to ensure the most accurate guidelines.
1

$29,160

2

$39,440

3

$49,720

4

$60,000

5

$70,280

6

$80,560

7

$90,840

8

$101,120
Under DOE guidelines, customers are automatically eligible to receive weatherization assistance if they receive Supplemental Security Income (SSI) or Temporary Assistance to Needy Families (TANF).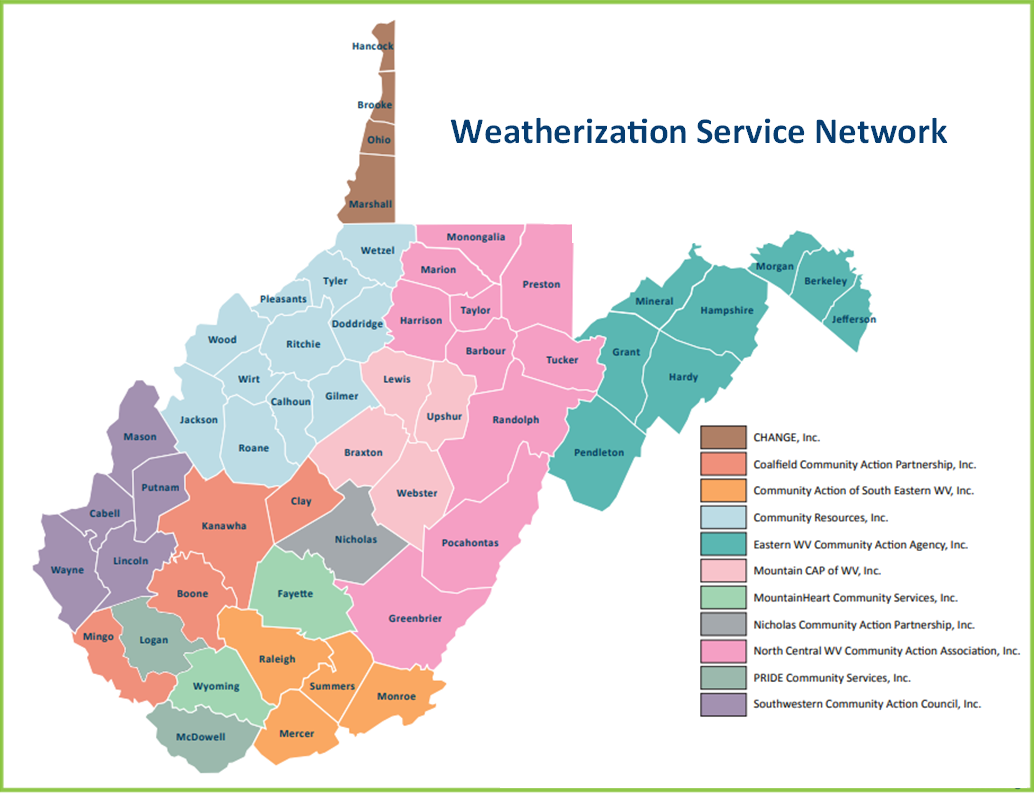 Benefits of WAP
The WAP gives priority to identifying and providing weatherization assistance to the elderly or persons with disabilities, households with children, households with a high-energy burden, and households identified as high energy users. WV WAP also operates the Energy Crisis Intervention Program (ECIP) which provides emergency heat repair and replacement, and works with utility companies throughout the state to provide services to reduce consumers' energy burden.

Funding for WAP
Amount: The DOE grant is a three-year grant, with funds received annually. The amount awarded to WV WAP varies depending on appropriations by the United States Congress. For Program Year 2020, WV WAP received $3,947,952. The LIHEAP Grant is received annually, and the amount varies depending on WV Department of Health and Human Resources allocation received from HHS. For Program Year 2020, WV WAP received $4,454,927.
Source of Funds:
Federal Awarding Agency: U.S. Department of Energy
CFDA Number and Name: 81.402 – Weatherization Assistance for Low-Income Persons
Federal Awarding Agency: U.S. Department of Health and Human Services
CFDA Number and Name: 93.568 – Low-Income Home and Energy Assistance
Funding Cycle: DOE WAP grants run July 1 through June 30. DHHR LIHEAP grants run October 1 through September 30.
Authorizing Legislation/Statute: N/A